Perhaps a little unusually, I play a fascinating instrument called a Hurdy Gurdy. There are several pictures of this instrument, and mine in particular, on this page.
So... no need to Google "Hurdy Gurdy" - just check out the info below...
This is a tune I wrote a while ago. Its a scottisch - a merry, jumpy kind of traditional dance. Have a listen and - if you can - tell me what you think, whether you are a dancer to French Trad tunes or not.
Just Wondrin'.Scottisch.mp3
This tune appears in the Playford collection, which shows it to be a very early cover version on an Italian tune - "La Mantovana" by Giuseppe Cenci [d. 1616]. See this link for further information and a side-by-side comparison: [opens in a new window...]
Italian Rant.1.011113.mp3
My newer Hurdy Gurdy, purchased September 2010; made by Claire Dugue, Ramsgate.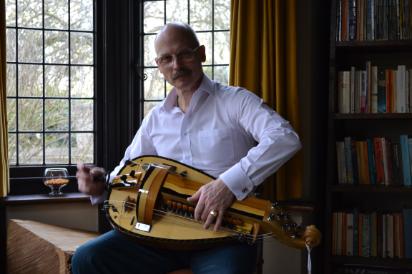 The recordings which appear lower down in this column were made quite a while ago now, on my older, Sam Palmer instrument.
Here are some more recent efforts, recorded on my upgraded Dugue hurdy gurdy: same basic arrangement, just even more capos, and a jack plug enabling connection to amps and other electrical goods...
1. This one is called "Kolomtanz", or simply "Kolom." Its from Belgium, and was recorded by my friends Blowzabella, a l-o-n-g time ago, with some embellishments and variations. That is the version I play here. A simpler version of the tune appears in Mart Heijmans "Pijpersboek" - my very battered copy was the first book of tunes I ever bought. Kolom was the first complete tune I ever learned.
2. This one is a couple of 3 time bourrees - its a rhythm and dance type that I really love - full of energy and lilting sparkle. The first tune, Wheelybin Wiggle, is one I wrote myself. The name arises because the opening bars of the tune popped into my head late one night as I was putting out the wheelybins for the refuse operatives to empty the following morning. Strange... I have paired it with "Crocodile" by Maxou Heintzen.
3. Here we have an old English dance, which dates from the early 16th century. I often play it at our sessions at The George Inn most of which dates from the same time, and wonder how many times the walls have heard the tune...
I love the fact that it has alternating tunes in different rhythms. Its basically a circle dance: during the faster tune you amble round one way, and then unwind [to prevent dizziness?] by ambling round the other way during the slow part. Groovy.
My Bagpipes. Scots lowland [hot wind] pipes, by Kintail of Glasgow.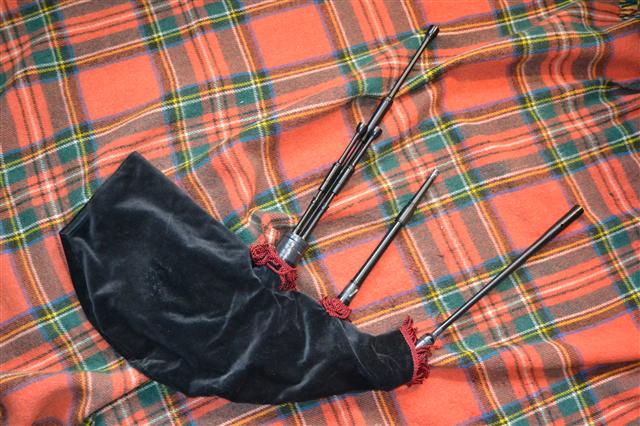 My piano, rescued - in a very sorry state - from a church hall many years ago.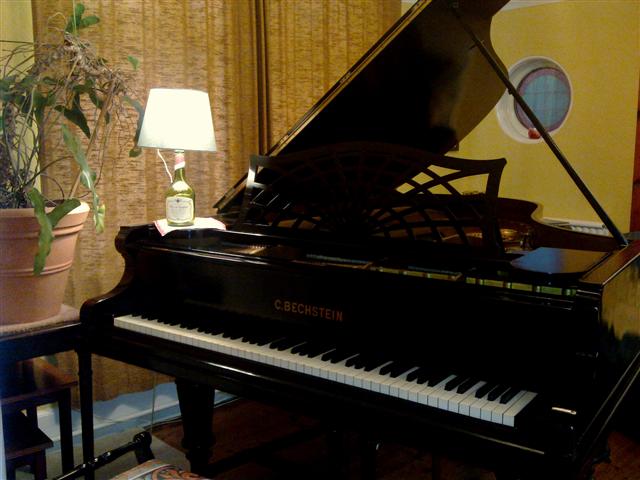 My Hurdy Gurdy and I...

There I was, walking through Covent Garden in central London, and there he was - playing a hurdy gurdy. I knew about them (heaven knows where from) but had never seen one. Not the sort of instrument you find in the window display of yer average High Street music shop...

I stopped and listened. After a while, he stopped...we talked. That's how I met Cliff Stapleton of Blowzabella fame. That's how, six months later, I had my own instrument, made by the other Blowzabella gurdyman, Sam Palmer.

It was like taming a wild beast at first. Playing tunes was not too bad - I had reached grade 6 piano some years ago, so the concept of a keyboard was not a new one. It was just all the rest.

Well...that was all back in 1980, and there have been many bridges and much water since then.

My instrument set me back £800, quite a lot, back then. It is a guitar shaped, six string gurdy, with a single trompette. The finish / decoration is very basic - no inlaying, carved head...) It is, however beautifully made, as you would expect from Sam. It is tuned to the keys of C / G, the Auvergne / Limousin tuning, and has a rather forward, outdoor sort of sound to it.

In October 2010, I received my new instrument from Claire Dugue of Ramsgate. Details are as follows:

- Luteback

- tuning C /G

- 3 chanterelles: D / G / G (the two Gs tuned in octaves, not unison)

- 2 trompettes: G and C/D (capo)
Older recordings of various tunes, played on my
Palmer hurdy gurdy:
3 time bourres.multitrack.good.2.mp3
De Montford.2 part.full ver.mp3.mp3
"De Montford" is a lovely tune, written by Jo Freya of Blowzabella. I recorded it some while ago, on my older Hurdy Gurdy. I added harmony on the same instrument by multi tracking [playing two Gurdies at the same time is tricky...]
If you have ever wondered what a Hurdy Gurdy is, or how it works, left click on the link below. [Opens in a new window]
Me with my two Hurdy Gurdies:
On the left of picture: Guitar shaped, fairly basic. By Sam Palmer, 1981.
On the right: The newer one - lute back; sat nav, performance monitoring computer, cruise control... basically, its got more stuff...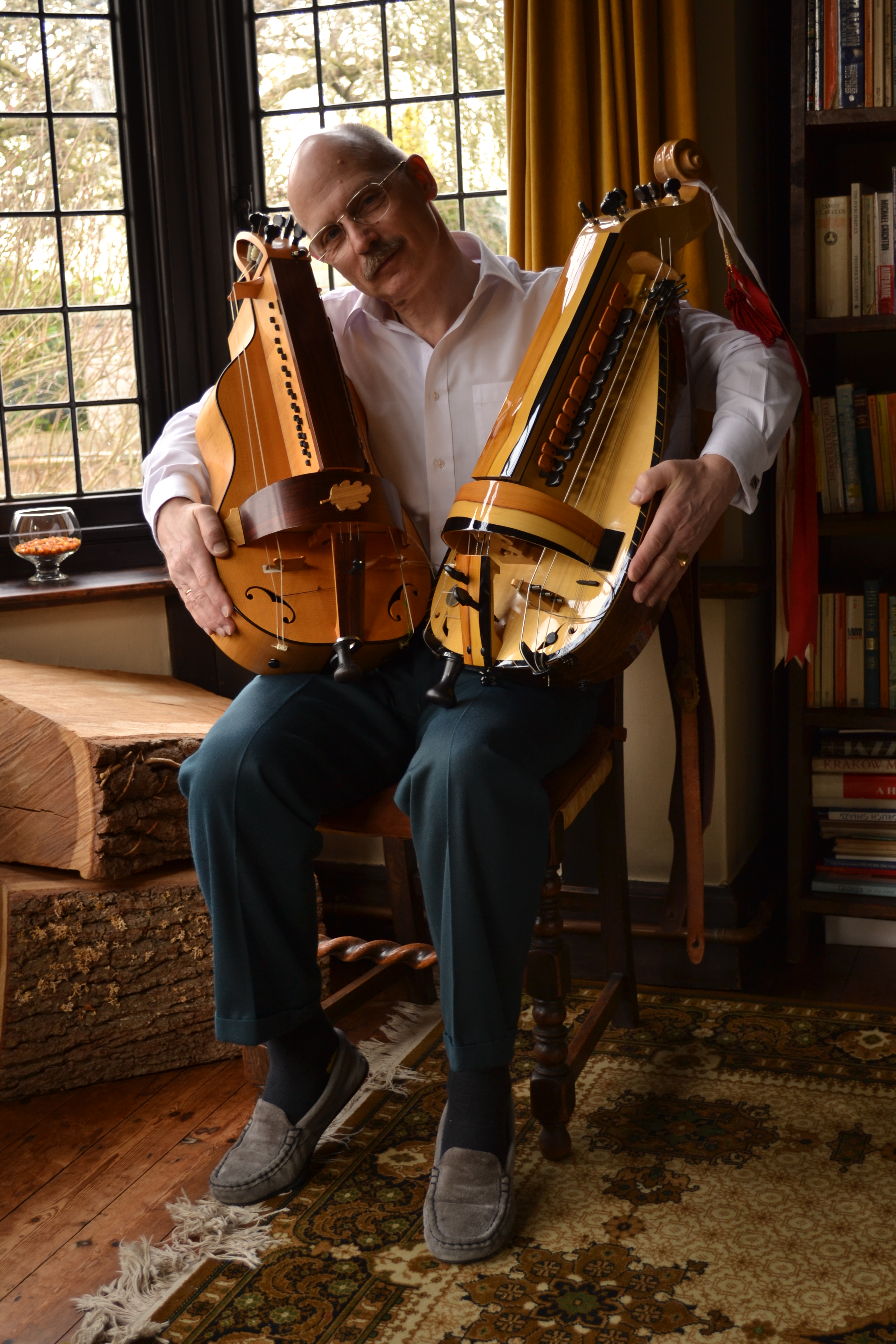 What I like about the Hurdy Gurdy.
I like the fact that:

¬ its unusual
¬ it looks interesting
¬ it has a keyboard
¬ it has a handle to turn
¬ it creates a drone sound
¬ it has a rhythm section
¬ it is complex
¬ it is a challenge to play
¬ it is quite versatile
¬ it is little known, but increasingly popular
¬ it is traditional and progressive
¬ it is acoustic
¬ it generates much interest wherever I go
¬ it makes a wonderful sound!

Detailed pictures of my luteback instrument:
There are many different types of Hurdy Gurdy: